Richard Härm and Einar Hinnov: Two Great Estonian-American Scientists
{Piret Kuusk, University of Tartu, Estonia}
{Indrek Martinson, Lund University, Sweden}
Additional: {Szymon Suckewer Princeton University}
Introduction
In the 1990s we published five articles about Estonian physicists in the yearbooks of the Estonian Physical Society. In four of the articles we selected people who were born and educated in Estonia but left their homeland during World War II and moved to countries in Western Europe or North America. The articles were written in Estonian and for Estonian readers. Two of the physicists, Richard Härm (1909-1996) and Einar Hinnov (1930-1995), spent their active careers in Princeton, N.J. (USA), and their scientific achievements were exceptionally successful. Several of their colleagues and relatives (not all of whom master Estonian) have provided us with valuable information about their lives and scientific careers, and this is perhaps the main reason why we now translate the Estonian texts that were written in 1998. We also include an article by Szymon Suckewer about his colleague and friend Einar Hinnov which appeared in the yearbook.
For readers who are not familiar with Estonia and its history, we here present some facts to provide a background to the lives of Härm and Hinnov.
Estonia
Estonia is the smallest of the three Baltic countries, with an area of 45,000 km2 and a population of about 1.4 million (70% Estonians, 30% Russians). The biggest cities are the capital Tallinn (400,000) and Tartu (100,000), the site of an old university, founded in 1632. For nearly 500 years, from 1227 to 1710, Estonians were ruled by Germans, Danes, Poles, and Swedes. After 1710, Estonia was a part of Czarist Russia until it became an independent and democratic republic near the end of the First World War, in February 1918. However, as a result of the secret Molotov-Ribbentrop pact in August 1939, Estonia was included in the Soviet sphere of influence and was occupied by the Soviet Union in June 1940. About 60,000 Estonians disappeared during the following 13 months. Of these, 10,000 were deported to Siberia in cattle wagons. Others were drafted into the Soviet Army or left Estonia in July 1941 along with retreating Russians, because by June 1941 the Hitler-Stalin friendship was over. Thus, Nazi Germany attacked the Soviet Union, and Estonia was occupied by Germany. This occupation lasted until September 1944. During those three years thousands of Estonians disappeared: about 6,000 perished as German soldiers, 4,000 civilians were killed in air attacks, and 5,000 were murdered by the Nazis, including 2,000 Jews. As Germany gradually withdrew, the Baltic countries were slowly occupied by the Red Army again. In September 1944, approximately 70,000 Estonians fled their homeland for neutral Sweden (this was quite difficult and dangerous) or Germany (which was somewhat easier), hoping to settle in democratic countries after the war. For those who fled to Germany this took some time. After the war they had to spend 4-5 years in refugee camps in West Germany until Australia, Canada, England, Sweden, USA, and some other countries were willing to accept them.
Between 1944 and 1991, Estonia was again absorbed into the Soviet Union. During the Cold War years people endured a grim dictatorship, especially before Stalin's death in March 1953. The first steps towards some semblance of freedom and democracy were taken in the late 1980's, and with the collapse of the Soviet Union in the fall 1991, Estonia once again became an independent and democratic republic. It is now a member of the UN, EU and NATO.
Richard Härm
Richard Härm was born on August 19, 1909, in the district of Vastseliina, located in the south-eastern corner of Estonia. His father, Andres, and mother, Julie (b. Tirul), were farmers. Richard studied in the elementary school in Vastseliina 1917-22 and in the high school of the town Petseri (now part of Russia), where he studied humanities. He graduated in June 1927.
A year later, in the fall of 1928, Härm began his mathematics studies at the University of Tartu. As all young men at that time, he had to carry out a one-year military service. He chose to do from May 1930 to May 1931. During this time he acted as a clerk at the headquarters of the 8th infantry battalion in the town Võru in southern Estonia. He continued his university studies in the fall of 1931. Two years later, in November 1933, he became a junior member of the male student society "Raimla" and the following spring a full member. (There were numerous student societies and associations at the University of Tartu; most students belonged to one of them, and their choice could have great influence on their future careers.) However, Härm's university studies were curtailed due to economic difficulties. From the fall of 1934 till early 1938, he was only able to attended the university during spring semesters. He had to work during the rest of the year; in 1936 as a civil servant at the Estonian Department of Forestry, and from 1937 he taught mathematics at the Treffner high school in Tartu.
In August 1939, Härm married a fellow university student, Erna Antonie Träss. She was born on October 16, 1914, in Oudova (Gdov), a district in the province of Petrograd, Russia, just across of the great lake Peipsi, which comprises most of the eastern border of Estonia. Life in Soviet Russia quickly turned from bad to worse and at the end of 1930, the Träss family succeeded in moving to Estonia (in general, emi-
gration from the Soviet Union was prohibited). At that time Erna had graduated from the 7th grade of the school in Oudova. Her limited knowledge of the Estonian language forced her to enter the 5th grade in Tartu. Between 1921 and 1936 she studied at the high school of commerce in Tartu and thereafter in the school of economics, University of Tartu, where she earned a degree in 1942. She belonged to thr female student society "Indla".
In early 1940 Richard passed all the university exams and practical courses that were needed for a bachelor's degree. He was not a brilliant student; most of his grades were sufficit (fair) and only a few of them maxime sufficit (excellent); his knowledge of astronomy was judged by Professor Taavet Rootsmäe as bene sufficit (good). He received his graduation diploma on February 1940, 11.5 years after entering the university. In the fall of 1940 he began his studies towards a teacher's diploma at the Pedagogics institute of the University of Tartu, but they were interrupted in 1942. From 1940 to 1944 he was also a mathematics teacher at the Treffner high school.
Erna Härm graduated from the University of Tartu on February 11, 1943. Their daughter Ene-Kaja was born in 1941. Three years later a son, Toivo, was born, but he died after only six months.
In the fall of 1944, when the Russian Army occupied Estonia, the Härms moved to Germany. There a diploma from the University of Tartu was highly rated and Richard was offered a research position at the Aerodynamische Versuchsanstalt, which years later became a Max Planck Institute. He was made the leader of the mathematics division and simultaneously carried out doctoral studies at the University of Göttingen. As Ene-Kaja remembers, her energetic mother organized an application for immigration to the US, and the request was granted long before the planned end of studies. As a result Härm was not able to complete and defend his doctoral thesis. Despite this circumstance, Richard Härm's later scientific activity in astrophysics reached an extraordinarily high level. Erna Härm, who also started doctoral studies in economics in Germany, was also not able to complete her doctoral program.
While in Germany, Richard also was engaged as a mathematics teacher at the Estonian High School in Göttingen. We heard this from one of his students at that time, Rein Kilkson, professor of biophysics at the University of Arizona, Tucson.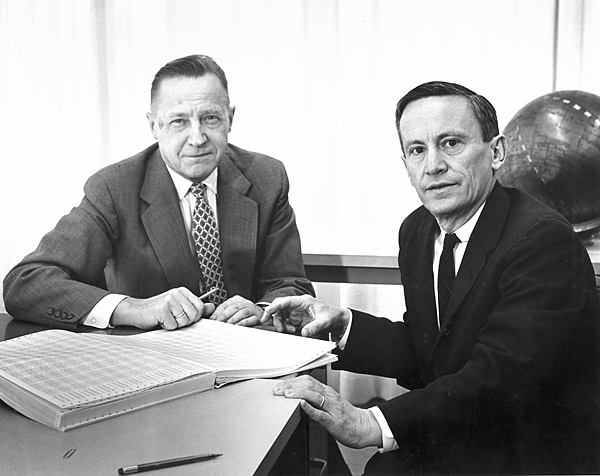 Richard Härm and Martin Schwarzschild discussing results of numerical integrations
In 1949 the Härm family arrived in the US. From 1949 to 1950, Richard worked at the Yale University Observatory and then, until his retirement in 1978, at the Princeton University. His mathematical interests, capability, and experience were focused on problems in astrophysics. He was initially under the guidance of and collaborated with the Director of the Princeton Observatory, Dr. Lyman Spitzer (1914–1997) and later worked with Professor Martin Schwarzschild (1912–1997). The latter was a member of a distinguished German family of scientists. (His uncle Robert Emden (1862–1940), published a famous book on gas dynamics "Gaskugeln" in 1907, and his father, Karl Schwarzschild (1873–1916), found an exact spherical symmetric solution of Einstein's field equations, now widely known as the Schwarzschild solution, describing black holes). From the 1940's on, Spitzer was studying the creation of stars in interstellar diffuse gas and dust clouds. Härm's task was the integration of the relevant transport equations. The results were published in Physical Review [1]. Härm continued his collaboration with Schwarzschild. The development of computing techniques allowed the solution of equations by numerical integration and modeling, using ever more powerful electronic computers. This resulted in several publications on inhomogeneous stellar models [2–5] and red giants [6,7]. Thanks largely to the calculations and published papers by Schwarzschild and Härm, it is now possible to follow the development of a typical star from the main sequence (where the Sun lies) to the red-giant state (e.g., Antares) and finally, a white dwarf (e.g., Sirius B). During their many years of collaboration (from 1953 to 1977) Schwarzschild and Härm published 22 papers dealing with the development scenarios of different kinds of stellar models. Another very important theoretical study concerns their calculation of the neutrino flux from the Sun [8]. Comparisons with experimental determinations of this flux by Ray Davis, using the Homestake neutrino detector, have shown that only 65 % of the expected number of neutrinos from the Sun reach Earth. This so-called solar-neutrino problem has not yet found an acceptable solution. (Note that according to very recent results, the solar neutrino deficit can be explained by neutrino oscillations, which convert neutrinos detected in the Homestake and other neutrino detectors into other, undetectable types of neutrino. In 2002, Davis and Masatoshi Koshiba were awarded the Nobel prize in physics "for pioneering contributions to astrophysics, in particular for the detection of cosmic neutrinos." In what appears to be his last publication Härm also calculated the solar neutrino flux by using inhomogeneous stellar models [9].)
Paper by Schwarzschild and Härm, Thermal Instability in Non-Degenerate Stars, Astrophysical Journal, vol. 142, p.855 is still relevant and cited. So are the others -
citation counts (as for 20.01.2009 being): 265,170, 143, 132, 111 etc.
In an interview at a later date, Schwarzschild confessed that he had to abandon numerical integration techniques and stellar model studies after Härm's retirement, because he could not find a collaborator as qualified as Härm. Indeed, from the early 1980s on, Schwarzschild's papers mainly deal with the dynamics of galaxies.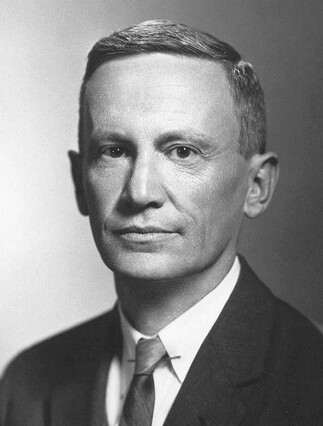 Martin Schwarzschild (1912–1997)
Donald Morton, who is now Director of the Herzberg Institute in Ottawa, was a graduate student at Princeton University from 1956 to 1959. He describes the collaboration with and work of his older colleagues as follows [10]:
I did no collaborative work with Härm, but we both worked at the observatory, so I saw him frequently. Richard Härm assisted Martin Schwarzschild in the computation of the internal structure of stars, a field in which Schwarzschild was the world leader. Härm helped with the numerical analysis needed to solve the 4 simultaneous ordinary differential equations used to construct models of evolving stars. He worked initially with a Marchant mechanical calculator and then with successive generations of IBM electronic computers. He was quiet, careful, and efficient. He made a significant contribution to our understanding of stellar evolution, and hence to the estimation of the ages of stars which provide a lower limit on the age of the universe. Other astronomers envied Schwarzschild for being so fortunate to have such a competent associate.
As I recall, Härm's Estonian wife was involved in numerical analysis at the Plasma Physics Laboratory.
Ene-Kaja also told us that her mother Erna worked at the Office of Population Research in Princeton. Because of her knowledge of the Russian language she became an expert on research material concerning Russia and also coauthor of a book. She was also a painter and spent her retirement years developing her art.
After their retirement, Richard and Erna Härm moved from Princeton to Columbia, Missouri, where their daughter lives. Ene-Kaja's university studies included English and American literature and she got her MA degree at the University of Wisconsin, Madison, later followed by a PhD in reading, linguistics, and learning disabilities. After a postdoc period at the University of Maryland, College Park, she opened in Columbia an education center "Focus on Learning," for children and young people from elementary school till academic degree levels. Her husband, Michael Chippendale, comes from England and is now Professor of Entomology at the University of Missouri, Columbia. They married in 1966, and have a son Stephen, a lawyer in Washington, and a daughter Katherine, whose husband Konstantinos, of Greek origin, has a PhD in aerospace engineering. Of the family members, only Ene-Kaja knows Estonian.
Ene-Kaja wrote about her father [11]:
My father was a very unpretentious and proud person (and also a little timid). He was one of the pioneers in computing and even taught many others in the field. This knowledge would have qualified him for employments anywhere, and he also received several offers from companies who promised very high salary. But my father liked the university atmosphere and he concluded that this was more important for him than money. He was also a very gifted teacher.
My father always carried himself with distinction and dressed well. Close to the end of his life his weight was the same as in his youth, and this also holds for his blond hair. He could get along with everybody, whether a child or a professor, and he respected all people. At parties or on various other occasions he was always a central figure. He played the trumpet in his young days and was an excellent dancer. I still remember the waltzes and polkas we danced at Estonian parties. His humor was inexhaustible and his stories were filled with jokes.
When my parents moved to Missouri they lived in a house next to ours and kept both homes in excellent shape, inside as well as outside. My father loved gardening, this was something rooted in his soul from his home in Vastseliina. Last year I was able to visit the farm where he spent his childhood and youth. Only then did I fully realize how much he left behind when he boarded the ship and left Estonia at the end of the Second World War. In his last months, when his memory failed because of the strokes he suffered, I know his mind returned to his beloved farm and homeland.
Richard Härm died on February 23, 1996. Erna Härm followed him only a few months later, on May 31, 1996.
Einar Hinnov
Einar Hinnov was born in Võru in southern Estonia on March 17, 1930. His parents were Paul Hinnov (1901–1978) and Alide Leontine Hinnov (b. Gens) (1898–1986). They had an older son, Verner, born in 1927. A year after Einar's birth, on March 9, 1931, a daughter, Rita-Helga, was born. Both parents worked as teachers and before the children reached school age, they were largely raised by their grandmother, Matilde Gens, who lived in the village of Sarja, not far from Võru. Later in his life, Einar remembered his early childhood as a carefree and beautiful time, and he frequently talked about it.
When school age was reached, Paul and Alide Hinnov moved to Tallinn, the capital of Estonia. Paul worked as a teacher of history in a the Westholm high school and also wrote some textbooks on history. Both Einar and his older brother, Verner, studied in the Westholm school.
The outbreak of World War II slowly but drastically changed life for all Estonians. During the German occupation, Paul Hinnov was drafted into the German army, serving in 1942–1943 as a reserve officer in Petseri, a small town in southern Estonia, and then sent to the front, while Verner Hinnov had to join the Luftwaffe.
Near the end of the war, the family members lost contact with each other. Paul and Verner Hinnov remained in Estonia, while Paul's brother, August Hinnov, his wife Magda, and their 5-year-old daughter Malle moved to Germany in 1944. So did Alide Hinnov and her children Einar and Rita-Helga, who first fled from Tallinn to Danzig (now Gdansk) and then continued further to Berlin. There lived Alide's sister Olly Schultze and her husband, the German artist Edmund Schultze. Alide Hinnov had a certificate permitting her to work as an interpreter—she was fluent in German and Russian. The Hinnovs stayed with their relatives in Berlin till February 1945. By then the bombing of Berlin by allied planes became extremely intense and the Hinnovs decided to move to Dresden. They arrived there on February 14, 1945—the worst day of the allied fire bombing of Dresden (which cost more than 100,000 civilian lives)! But they managed to survive this horrible day by hiding in a ditch at the zoological garden.
They fled further to the Giessmansdorf refugee camp in Riesengebirge and then to Erfurt. August Hinnov and his family had also arrived in Erfurt. But the spring of 1945 was tragic. First Malle, the daughter of August and Magda, died, and on May 21, she was followed by Rita-Helga. Einar and his mother now moved to refugee camps for Displaced Persons in Bavaria, first in Hochfeld and then in Aschaffenburg. In the latter camp there was an Estonian high school, and, after an interval of some years, Einar now could continue his schooling in the fall of 1946. He was able to compensate for the time lost and graduated in May 1948.
In 1949 a major change occurred—Einar was awarded a YMCA scholarship to carry out academic studies in the US. He arrived there on the same day as Columbus, on October 12 (but 457 y later). In 1951, Einar's mother Alide Hinnov was permitted to move to the US where she got a job as a maid servant. She died in February 1986, nearly 88 years old.
Einar began his physics studies at St. Olaf College, Northfield, Minnesota, and received his BA in June 1952. He continued his studies at the Duke University, North Carolina, and obtained his MA degree in June 1954 for the thesis "A Study of the Intensity-Density Relationship of Spectral Lines in a Flame Source." Two years later, in June 1956, he received the PhD at the same university with the thesis "A Study of Optical Cross Sections of Various Elements Based on Line Intensity and Temperature Measurements in a Flame Source." His thesis adviser was Dr. Hedwig Kohn. (She had done excellent work in nuclear physics in Germany but had to leave that country in the 1930's because of her Jewish origin. She was also a good friend of Lise Meitner.)
In 1956 Einar became an American citizen. In the same year he married Kathleen Landon. Their daughter, Linda Alide Hinnov, was born on April 12, 1957.
From December 1956 Einar worked as a research associate at the University of Maryland. Nearly three years later, in July 1959, he moved to the Plasma Physics Laboratory of the Princeton University, PPPL, and worked here until his retirement as professor, senior scientist, and consultant. His field of research was plasma physics and its applications to astrophysics and nuclear fusion physics.
Princeton has for many years been a leading center for thermonuclear fusion research. There a number unique devices have been developed and operated with great success, for instance the C-Stellarator and the tokamaks ST (Symmetric Torus), PLT (Princeton Large Torus), and TFTR (Tokamak Fusion Test Reactor). The latter (now shut down) was one of the three largest tokamaks in the world, the others being JET (Joint European Torus) in Culham, UK, and the JT-60 machine in Tokai, Japan. Einar could thus work at the hot focal point of the most advanced fusion research. It was hot also in the more prosaic sense. The fusion reactions can occur only if the magnetically confined plasma is extremely hot. Those readers who are interested in registering world records should know that in 1978 Einar participated in an experiment at PLT that resulted in a world record at that time — 80 million degrees. This record has been improved today, JET as well as TFTR and JT-60 have reached plasma temperatures higher than 300 million degrees.
Such temperatures are spectacular indeed—but how can one determine them in a reliable way? Here Einar made pioneering contributions by studying the plasma impurities. By means of optical spectroscopy, he demonstrated that the plasmas in stellarators and tokamaks do not only contain electrons and ions of hydrogen isotopes but also other species, e.g., multiply-charged ions of carbon, oxygen and heavier elements, such as chromium, iron, nickel, molybenum, and sometimes even tungsten. The spectra of such ions are of interest to astrophysics as well. The spectra of stellar plasmas may exhibit lines which are not always observed in spectra from terrestrial light sources. For instance, already in 1869 mysterious lines were observed in Solar spectra which could not be reproduced in the laboratory. Their origin was explained as late as in 1942 (after 73 years), by Professor Bengt Edlén (1906–1993) at the University of Lund, Sweden. The first scientists who succeeded in producing these so-called forbidden M1 (magnetic dipole) lines were Einar Hinnov and Szymon Suckewer at PLT, in 1978 [12]. From the Doppler widths of such lines the plasma temperature can be accurately determined by well-known optical methods.
Einar, who had begun his studies of recombination processes in plasmas already in the 1960's [13, 14], thus succeeded in accurately measuring and explaining the optical spectra of the impurities, thereby obtaining very valuable results. It was realized earlier that the presence of heavy ions in the plasma leads to energy losses and plasma cooling which even may rule out thermonuclear fusion [15]. Because of a strong Z-dependence, these losses are particularly severe in the case of heavier impurities, e.g. molybdenum and tungsten. It is thus imperative to identify the impurities, from their spectra, and thereafter find ways how to to eliminate them or reduce their concentrations in plasmas. In these efforts there has been a very close and fruitful collaboration between plasma spectroscopists and atomic physicists. A paper by Einar from 1976 [16] became particularly valuable in stimulating the joint efforts and close collaboration between these two groups of scientists. He showed that the impurity ions were also quite useful for the diagnostics of fusion plasmas, e.g., the determination of electron and ion densities and temperatures, plasma confinement times, etc. Thus, the impurity ions were not only enemies but also friends if treated properly. Furthermore, even atomic physicists became excited by the data from fusion plasmas—besides exhibiting many new spectral lines of great importance for basic atomic physics, they also proved that experimental and theoretical studies of such systems were not only of "academic interest" but also necessary for advanced energy development! Einar participated intensely in several aspects of such research [17].
In the 1980's one of Einar Hinnov's close collaborators at Princeton was Russell A. Hulse, who—together with Joseph H. Taylor—in 1993 was awarded the Nobel prize in physics for their discovery of the binary pulsar PSR 1913+16.
Hulse told us [18]:
I remember Einar best from when I first started at PPPL, working on developing my impurity transport computer models. He was the clearly recognized "senior authority" in the spectroscopy group, so of course I talked with him a bit back then, starting from when I came to PPPL in 1977. His fascination with atomic spectroscopy was evident, as was his often wry humor!
In July 1990 Einar remarried. His new wife, Boël Denne, was born in Sweden in 1954. After five years as a graduate student in atomic physics at the Lund University Boel got her PhD degree in the fall of 1981. Then she first spent two years at PPPL as a postdoctoral fellow and then nearly ten years at JET as a researcher. The collaboration with Einar went on continuously. Among their many joint papers the applications of high-resolution spectra from fusion devices to studies of quantum electrodynamics (QED) effects are fascinating [19].
Boël both learned Estonian and taught Einar Swedish. Einar was actually very interested in languages, and according to Boël could communicate in English, German, French, Spanish, Portuguese, Italian, Russian, Latin, and Greek. He had also studied Swedish, Japanese, and Hebrew. He was also very interested in history, literature, and poetry and preferred to read poetry in its original language. He was in excellent physical shape, kept so by long walks and scuba diving. While a student at Duke University, he was an active member of clubs for mountain climbers and cave explorers and went on field trips to various places in the US.
Hinnov and his work became well-known in Estonia because of an inteview in the popular science journal "Horisont" by one of the authors (I.M.) in 1991. They first met in December 1974 in Garching, near Munich, where Hinnov was on sabbatical
(Max-Planck Institute for Plasma Physics). Half a year later Einar visited Stockholm and informed Swedish atomic physicists about the fascinating problems plaguing fusion devices. When I.M. (in November 1975) moved to Lund, he started a research program on atomic physics for fusion which has been running continously since then. The close collaboration with Einar Hinnov, at various conferences and through several personal visits, has been of very great value for this research program.
In the fall of 1992 (when Estonia was independent again), Einar was able to visit Estonia after an absence of nearly 50 years. His father, Paul Hinnov, who had died in 1978, is buried in Tartu. Paul left behind his second wife, Virve (Laurits) Hinnov, born in 1915. Einar also met his older brother, Verner Hinnov, who had worked at a cement factory as a chief engineer. Verner and his wife Liidia had two two sons, Ahto and Kari. Kari had already met Einar and Boël while visiting Lund in December 1991.
Einar and Boël paid three additional visits to Estonia, in 1993 and 1994. In 1994 they both became members of the Estonian Physical Society.
In the 1990's Einar's health gradually deteriorated because of an incurable brain tumor. He died at his daughter's home in Baltimore, Maryland, on October 23, 1995. On November 15, a memorial service was held in the Chapel of the Princeton University. Songs and readings in English, German, Russian and Estonian languages were performed on this occasion. Next to Einar's urn there was a vessel with soil and small stones from the village Sarja in Estonia.
Acknowledgements
We are particularly indebted to Ene-Kaja Chippendale (born Härm) and Boël Denne-Hinnov for their personal recollections. We greatly appreciate quick responses to our questions from Russell Hulse, Russell Kulsrud, Donald Morton and Szymon Suckewer. Special thanks to Rein Kilkson and Fred Puss for adding interesting details to the biographies. We are also grateful to Claude Cohen-Tannoudji, Larry J. Curtis and Stacey Sorensen for valuable comments about the English version.
Bibliography
1. L. Spitzer and R. Härm. Transport phenomena in a completely ionized gas. Phys. Rev. 89, 997–981 (1953).
2. M. Schwarzschild and M.I. Rabinowitz, R. Härm, Inhomogeneous stellar models, III. Astrophys. J. 118, 326–334 (1953).
3. R. Härm and M. Schwarzschild. Numerical integration for stellar interior. Astrophys. J. Supp. Ser. 1 (No. 10), 319–430 (1955).
4. R. Härm and M. Schwarzschild. Inhomogeneous stellar models, IV.Astrophys. J. 121, 445–453 (1955).
5. M. Schwarzschild, R. Howard, and R. Härm. Inhomogeneous stellar models, V. Astrophys. J. 125, 233–241 (1957).
6. M. Schwarzschild and R. Härm. Red giants of population II. Part II. Astrophys. J. 136, 158–165 (1962).
7. R. Härm and M. Schwarzschild. Red giants of population II. Part III. Astrophys. J. 139, 594–601 (1964); Part IV. Astrophys. J. 145, 496–504 (1966).
8. M. Schwarzschild and R. Härm. Stability of Sun against spherical thermal perturbations. Astrophys. J. 184, 5–8 (1973).
9. S.P. Bhavsar and R. Härm. Neutrino flux of inhomogeneous solar model. Astrophys. J. 216, 138–140 (1977).
10. Donald Morton, e-mail to I.M. on Oct. 23, 1998.
11. Ene-Kaja Chippendale, personal letter to I.M. on Nov. 9, 1998.
12. S. Suckewer and E. Hinnov, Observation of a forbidden line of Fe xx and its application for ion temperature measurements in the Princeton Large Torus Tokamak. Phys. Rev. Lett. 41, 756–759 (1978).
13. E. Hinnov and J.G. Hirschberg, Electron-ion recombination in dense plasmas. Phys. Rev. 125, No. 3, 795–801 (1962).
14. E. Hinnov, Measurement of recombination-rate coefficients of He++. Phys. Rev. 147, No. 1, 197–200 (1966).
15. R.F. Post, Controlled fusion research – an application of physics of high temperature plasmas. Rev. Mod. Phys. 28, 338–362 (1956).
16. E. Hinnov, Highly ionized atoms in Tokamak plasmas. Phys. Rev. A14, No. 4, 1533–1541 (1976).
17. E. Hinnov, Spectroscopy of highly-ionized atoms. In "Atomic Processes in Controlled Thermonuclear Fusion," Eds. M.R.C. McDowell and A.M. Ferendeci, Plenum Press, New York, pp. 449–470 (1980).
18. Russell Hulse, e-mail to I.M. on Nov. 3, 1995.
19. B. Denne and E. Hinnov, Spectral lines of highly ionized atoms for the diagnostics of fusion plasmas. Physica Scripta 35, 811–818 (1987).
How do I remember Einar Hinnov
[Szymon Suckewer Princeton University]
I met Einar at Princeton in the fall of 1975, after his return from sabbatical and a half year after I joined the Plasma Physics Laboratory. Of course, I knew Einar's work much earlier, especially his and Joe Hirschberg's fundamental papers on plasma collisional recombination as well as their spectroscopy works on the Stellarator. Joe Hirschberg was instrumental in bringing Einar to Princeton in the late 50s. They collaborated closely until Joe took a faculty position at the University of Florida in 1965.
Einar was a medium height man of ascetic appearance with strikingly penetrating lightblue eyes and a good sense of humor. Everybody knew of his aversion to cigarette smoke. It was so strong that he could easily detect a smoker in the room filled with 40-50 people, and notwithstanding his modesty, publicly call for a smoker to stop smoking or leave the room, regardless of who he or she was. He was a very honest, straightforward person, who hated uncertain measurements, unreliable results and "colorful" papers with a lot of "empty words." He believed that science should be of the highest standards and an example for everyday human behaviour. He especially was sensitive to spectroscopic measurements, which with its high precision, should provide an example for other sciences. He strictly applied these principles in the craft he practiced – Science. He was great Scientist.
In my work with Einar, several times we had the unforgettable experience of the accomplishments. I still remember the excitement we felt, when after two and a half years of extensive search, we finally found the FeXX 266.5 nm line from an electric dipole forbidden transitions in the ground state of FeXX ion in Tokamak plasma; and again, when we were able to apply this forbidden line for ion temperature profile measurements in the Princeton Large Torus (PLT), which at that time reached a record high temperature of 45 million °C; and again, when we discovered many other forbidden lines in the plasma rotation, impurity densities and their transport in Tokamaks. These were truly exciting times, as the discovered forbidden lines also contributed to the first observation of charge exchange recombination of highly ionized iron and titanium in the PLT.
We had a special understanding in our collaboration in writing scientific papers. Usually I would write the first draft and Einar would totally rewrite it for the final version. Although English was not Einar's mother-tongue, I knew very few scientists, who could compete with Einar in this skill.
Einar was very disciplined in his work. He usually arrived at 9:15-9:30 in the morning and proceeded with work from the point where he left the night before. When we had an experiment on one of the Tokamaks, he would check his instrument for readiness when the "source of radiation", as he called the Tokamak, became available for measurements. During experiments, he operated his GISMO (grazing incidence spectrometer monochromator) from his far corner in the control room (the control system for my instruments was next to his). We usually stayed until the last discharge, often after midnight, and even at this late time the request for "one more discharge" would frequently come from our corner of the room.
Einar lived a healthy life; he liked walking and cross country skiing, and very seldom was ill with a cold or flu, even when all the other people around him became sick. During lunch break he quickly ate some simple (healthy) food, which he brought in with him, and then would go for an hour long walk in the surrounding woods, regardless of the weather. Besides plasma spectroscopy, he was passionate about scuba diving and underwater photography. An amazing collection of underwater photographs was a result of this passion. At work he did not like to talk about anything else but science, with the small exception of scuba diving. I asked him once why he was not afraid of sharks. He told me that sharks will not attack a human unless they are provoked. However, after one of his scuba diving trips, he was very quiet about that trip. When I asked about the vacation experience, he reluctantly showed his right leg, which was blue with a terrible looking 20 cm long wound as a result of a shark's bite. He said that he managed to stay alive by bumping the shark's nose with his underwater camera until he was rescued.
I enjoyed discussing with Einar various spectroscopy problems. He was very knowledgeable, very clear in formulating his view points and quick to admit his uncertainty about issues less familiar or clear to him.
I miss him as a friend and a colleague.
November 13, 1998